It would be churlish of me to bring up our two Sunshine-class ships just to point out once again that we are not yet ready to divulge their exciting features. Believe me, we would love to talk about them and we eventually will. The closer we get to doing so, the slower time seems to crawl. But we have a timetable and we are sticking to it.
In the meantime, I will comment on the process that takes us from an idea to an actual new cruise ship. We call it our "Newbuild" process and it provides a constant hum of activity behind the scenes in our daily work lives.  Sometimes it is incredibly intense such as during the original negotiation for the ship with one or more shipyards and then again later as we face specific deadlines where we owe the shipyard our "deliverables" in the design process. Sometimes it is less onerous, at least for the more senior company leaders. For those who live in the Newbuild world full time, the process never relents for a single day in a multiyear span. Judging by the affinity our Newbuild colleagues exhibit for the process, this is a highly desirable career path. Some of them have been contributing their expertise for decades. A lot of experience and wisdom are necessary to turn out the unprecedented ships that are the trademark of Royal Caribbean International.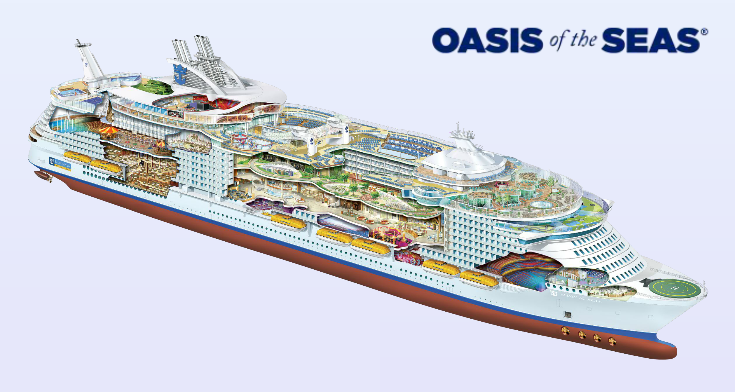 You might think of the Newbuild process as a marriage of two pyramids. The first is a pyramid of project management. We have specialists who are responsible for innumerable aspects of a Newbuild project. They, along with their counterparts at the shipyard, form the base of the pyramid. Without them there are no new ships. The pyramid rises through groups of management until ultimately it reaches its peak at the Newbuild Executive Steering Committee. These company leaders meet periodically to listen to ideas, evaluate architect presentations, request more focus in certain areas, review project economics, etc. At all levels of the pyramid there is a constant flow of ideas, critiques, reworkings, etc. Harri Kulovaara has led the Newbuild team since 1995.  Kelly Gonzalez, VP, Architectural Design, reports directly to Harri and oversees all aspects of Newbuild design. Besides our Chairman & CEO Richard Fain and myself, our brand leadership is provided by our senior leaders such as Lisa Bauer and Lisa Lutoff-Perlo.
The other pyramid is the design process itself. At first there is a virtually blank sheet of paper. We start with a vision about what we expect a new class of ships to contribute to the brand and the overall fleet profile. That vision is the base of this pyramid.  Subsequently we work on an overall layout of each deck of the ship known as the General Arrangements Plan. Early in this stage we are constantly moving even large venues from forward to aft, starboard to port and deck to deck. As time goes on, the venues become more defined in their respective places and we worry about a progression of ever smaller details from seat counts to décor to ceiling patterns to signage. By smaller details I don't mean smaller worries. We obsess about absolutely everything from day one until after the ship is delivered to us. But at a certain point there is very little left that can change and we have reached the peak of this pyramid.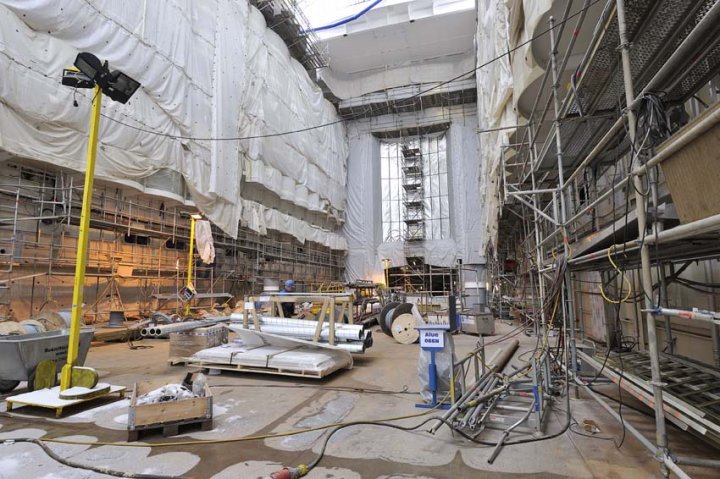 Over the years we have come up with some amazing features ranging from the ice skating rink in Studio B to Central Park. We are often asked how it happens. There is no simple answer. We think hard about features that will be responsive to the emerging tastes of our customers. We encourage our people to be imaginative. We allow our family of architects to comment on each other's work which sometimes results in a good idea being stress-tested into a great idea. Finally, as evidenced by the ice rinks, we have a strong preference for the real thing.
The process I have described will produce a Sunshine-class ship in late 2014 courtesy of the excellent shipbuilding team at Meyer Werft in Papenburg, Germany. There is still a long way to go but the excitement is literally building even before the first steel plate is cut. Stay tuned.