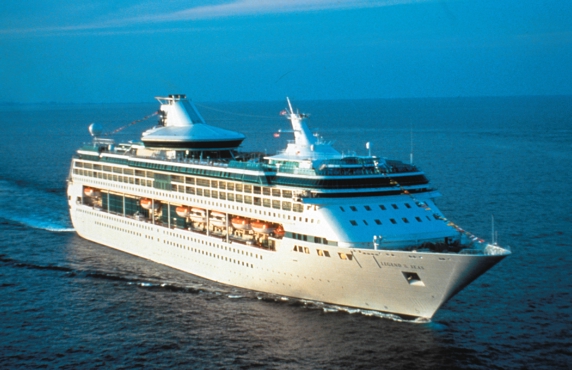 Our readers have expressed a lot of interest in Legend of the Seas (above), in particular and the role of the older ships in the fleet in general.  When you think about how many guests have had a great Royal Caribbean vacation on Monarch of the Seas, Majesty of the Seas, Legend of the Seas, Splendour of the Seas, Grandeur of the Seas, Rhapsody of the Seas, Enchantment of the Seas and Vision of the Seas since they were introduced in the period from 1991 to 1998, it's no wonder.  The bottom line is these ships are still very important to our brand and to our company.  
Consider Monarch of the Seas and Majesty of the Seas, each doing 3 & 4 night cruises to the Bahamas.  Each ship takes about 2,500 guests on a cruise twice a week.  The two ships together carry 500,000 of our guests each year, including an important percentage of our first time cruisers.  We revitalized each of these ships in recent years and are glad to have done so. 
The other six ships, mentioned above, comprise the Vision Class.  Some of our veteran cruisers know instinctively that this "class" is really more about cousins than siblings.  Essentially, the class consists of three pair of two ships.  Legend and Splendour were built in France in '95 and '96.  Grandeur and Enchantment were built in Finland in '96 and '97.  Rhapsody and Vision were built in France in '97 and '98.    Of these, only Enchantment thus far has been revitalized not to mention stretched.  
While we don't have anything to announce in the way of revitalizations, the Vision Class ships are clearly important to our expanding business.  Legend is in Asia, Rhapsody will soon be back in Australia, Splendour and Vision are headed to Brazil in a few months, and Grandeur will be in the Mediterranean next summer.  We are attracting many first time cruisers from high potential countries by placing these ships in or near their home markets. These same itineraries also offer a great diversity of opportunity for our experienced cruisers to explore the world with Royal Caribbean.  We spend a lot of time and effort working with our ship teams so they can deliver the "Wow" to widely varying guest mixes.  Our satisfaction ratings this year underscore that our shipboard colleagues are meeting this challenge well. 
Even as we are in the homestretch of preparations to take delivery of Allure of the Seas, our team is highly cognizant of the valuable role that our older ships play in Royal Caribbean's world.  We look forward to having them in our fleet for the foreseeable future.  Please feel free to write and tell us your favorite Vision Class moments.